4 Month Supply of Fermented Enzyme Supplements
Umeken Koso Ball EX contains 108 different natural ingredients.
After these ingredients go through a three-step fermentation
process, the Koso Ball EX is born!
Through Umeken, the true power of enzymes is realized.
What is enzyme?
Enzymes are used in various functions such as digestion and the breakdown of food. When enzymes become insufficient in our body, metabolic ability drops down to an extent where digestion and breakdown of food become difficult, causing the body to feel more tired and exhausted.

What can enzyme deficiency lead to?
Many of us use up more enzymes than we consume as we eat processed foods or foods containing no enzymes at all. When enzymes are low, breakdown and digestion of food slows down, making the food stay in the stomach much longer than usual. Continuation of this vicious cycle adversely affects our health.
Why do we need more enzymes to be replenished as we age?
After our 20's, our body's digestive metabolism drops dramatically. According to a research study of Dr. Mayer of Chicago's Michael Reese Medical Center, amylase enzymes secreted in the saliva of seniors in their 70's are found to be 30x less than those of men in their 20's. The number of antioxidant, digestive, and metabolic enzymes are found to decline drastically as we age.
What is Umeken Koso Ball EX?
As the foremost experts in Japan's fermentation science, Umeken produces enzyme supplements from vegetables, herbs, and fruits that are produced in some of the cleanest Brazilian forests as recognized by World Heritage Site. After a three-step fermentation process using 1dH pure soft water, the complex mixture of 108 of the finest ingredients available is extracted into Umeken's very own enzyme supplement, capturing the very essence of vitality strength in one small pill.
Umeken Koso Ball EX, what makes it special?
Umeken Koso Ball EX contains 108 different natural ingredients that are grown in pristine conditions, and it is made through a three-step fermenting process using 1dH pure soft water.
Umeken Koso Ball EX became one of Umeken's best sellers as more and more people experienced its efficacy and has helped further establish the reputation of quality that comes with the Umeken brand.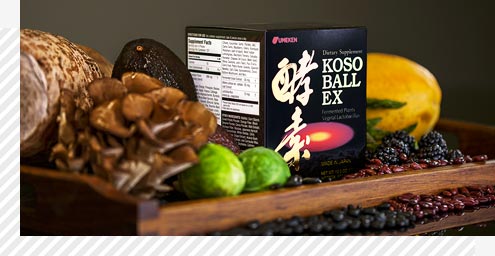 Umeken Koso Ball contains 108 different natural
ingredients that contain many essential nutrients.
Cabbage
Carrot
Mung Bean
Sprouts
Napa Cabbage
Spinach
Broccoli
Sweet Potato
Lettuce
Daikon Radish
Tomato
Lemon
Yuzu
Taro
Bok Choy
Turnip
Acerola
Avocado
Winter Squash
Zucchini
Bell Pepper
Collard
Bitter Melon
Cauliflower
Eggplant

Onion
Welsh Onion
Mustard
Spinach

Cassava
Bean Sprouts

Pumpkin
Red-leaf
Lettuce
Asparagus
Chinese
Chives
Cucumber

Garlic
Parsley
Jilo
Celery
Yam
Brussels
sprouts
Guava
Orange
Pineapple
Banana
Apple
Papaya
Mango
Kiwi
Melon
Pear
Watermelon
Persimmon

Blueberry
Carambola
Fig
White Mulberry
Camu Camu
Blackberry
Kumquat
Guarana
Burdock
Sacred Lotus
Ginger
Mugwort
Honey
Wakame
Chicory
Kombu
Rosemary
West Indian
Lemongrass
Baccharis
Trimera
Catuaba
Horsetail

Chapeau
De Couro
Mate
Stevia
Pau D'arco
Pedra Hume
Guesito
Spanish
Needles
Cat's Claw
Gynostemma
Clove
Nori
Cow's Foot
Rice
Barley
Jalo Bean
Oat
Pea
Roxinho Bean
Millet
Sesame
Soybean
Adzuki Bean
Adzuki Bean
Corn
Job's Tears
Lentil
Rye
Brazil Nut
Sweet Corn
Chickpea

Saccharomyces
cerevisiae
Cashew Nut
Enoki
Mushroom

Maitake
Mushroom
Bottom
Mushroom

370g (Approx. 970 balls) about 4 month supply.
* These statements have not been evaluated by the Food and Drug Administration.
This product is not intended to diagnose, treat, cure or prevent any disease.